Roasted Shrimp Cocktail is a classic appetizer that is guaranteed to be a hit at parties and gatherings. This recipe requires a handful of ingredients. The dish is not only delicious but also very easy to make.
Shrimp Cocktail is one of my favorite appetizers. I love the combination of cold shrimp dipped into a tangy cocktail sauce. It is a refreshing and light dish that is perfect for warm weather. This classic appetizer is whipped up in just a few minutes and is a crowd-pleaser, though it would be a great date night appetizer too.
Why I Kove This Recipe
One reason I like this recipe is that the shrimp are roasted instead of boiled. In the past, I shied away from making shrimp cocktail because I did not like boiling the shrimp. To me, the shrimp was soggy.
A few years ago, I saw a recipe where the shrimp was roasted in the oven. I tried it and the results were phenomenal. The shrimp turned out perfect. Instead of a rubbery texture, the shrimp is firm and has a nice bite when you eat it.
The other reason I am fond of this particular recipe is that the cocktail sauce is simple. Traditional cocktail sauce is made with ketchup, horseradish, lemon juice, and Worcestershire sauce. I like to keep things simple so this recipe is made without Worcestershire sauce. Honestly, the cocktail sauce is delicious without it. In a pinch, you can make it with just ketchup and horseradish. Often, that is what I do!
My father taught me how to make cocktail sauce many years ago. However, he would add a little barbeque sauce to it. I know it sounds odd, but it was actually quite tasty. I did not include it in this recipe but feel free to add 2-3 teaspoons for a delicious Texas-style cocktail sauce.
Jump to:
Ingredients
You need three ingredients to make the shrimp and three to make the dipping sauce. See the recipe card for a full list of ingredients with quantities
For the Shrimp
Shrimp-the best shrimp is 21-25 count, peeled raw shrimp with tails on. They are large and the perfect size for dipping into cocktail sauce. Make sure you get the peeled shrimp so that you don't need to do it
Olive oil-just a bit to help with browning
Salt-I use kosher salt. If you use regular table salt, cut the amount you use in half. Salt adds flavor.
Cocktail Sauce
Ketchup-use your favorite ketchup.
Horseradish-often referred to as old fashioned or prepared. Do not use creamed horseradish that looks like mayonnaise.
Lemon juice-only use juice that you have squeezed from a lemon. If you don't have lemon juice you can leave it out of the sauce. It will still be tasty.
What is the Best Shrimp for Shrimp Cocktail
Large shrimp (21-25 per shrimp per pound) are the best size shrimp to purchase for shrimp cocktail. You want to use raw shrimp with tails on, peeled, and deveined.
This shrimp from Costco is reasonably priced and excellent.
How to Make Roasted Shrimp Cocktail
One of the great things about shrimp cocktail is its simplicity. It requires only a few ingredients and is prepared in a short amount of time.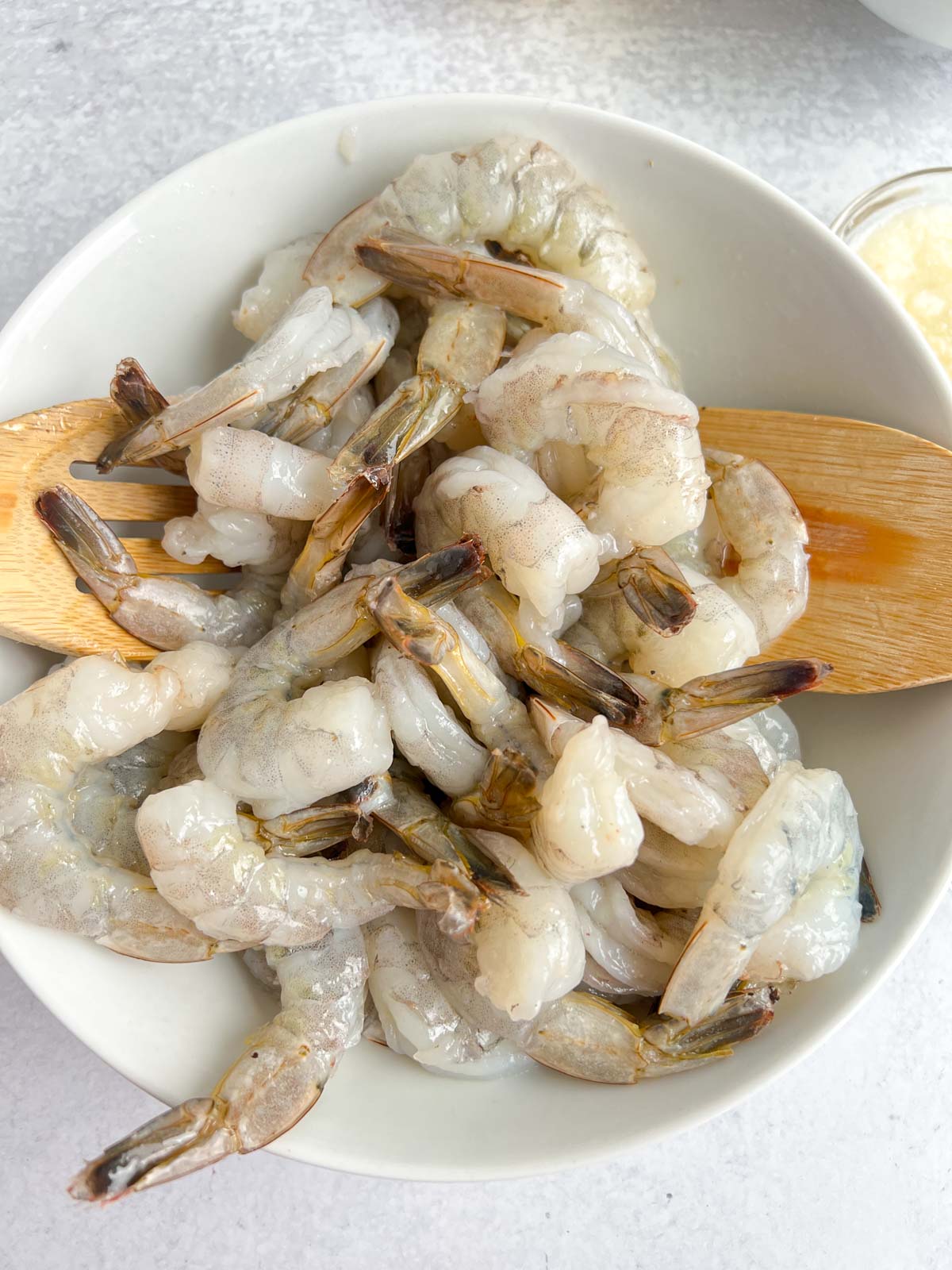 Place raw shrimp in a medium bowl or directly on a sheet pan. Add salt and oil. Toss.
Option: Toss directly on the sheet pan.
Place shrimp on a sheet pan. Do not overcrowd shrimp so they can roast evenly.
Roast the shrimp. Remove the pan from the oven as soon as the shrimp turn pink. Don't overcook them. Place the shrimp in a bowl or plate and refrigerate.
Make the cocktail sauce by combining ketchup, horseradish, and lemon juice in a bowl.
Stir to combine the ingredients.
Place the shrimp and cocktail sauce on a serving dish. Garnish with lemon wedges, and serve!
Note: If the shrimp will be at room temperature longer than 30 minutes, serve it over a bowl or plate of ice to keep it cold.
Enjoy!
Substitutions and Variations
Variations of the sauce include adding additional ingredients such as hot sauce, garlic, or chili powder. You can substitute chili or tomato sauce for the ketchup.
Tartar sauce or aioli is a delicious substitute for cocktail sauce.
Serving Suggestions
In individual glasses or bowls: Serve shrimp cocktail in small glasses or bowls for an elegant presentation. Place a few lettuce leaves or other greens in the bottom of each glass or bowl, and then layer the shrimp on top. Garnish with lemon wedges and parsley.
On a platter: Arrange the chilled shrimp on a platter with the cocktail sauce in a bowl in the center. Add lemon wedges and a few sprigs of parsley for garnish.
With avocado: For a fresh and healthy twist, serve shrimp cocktail on top of sliced avocado. Add a dollop of cocktail sauce on top for a colorful and flavorful dish.
As a salad: Serve a shrimp cocktail on top of a bed of mixed greens for a refreshing and light salad. Drizzle with the cocktail sauce and a little extra lemon juice for extra flavor.
No matter how you serve it, shrimp cocktail is a classic and delicious appetizer that is sure to impress your guests.
Equipment
Sheet pan
Tongs/spatula
Small bowl
Stirring spoon
Serving platter
Storage
Shrimp and cocktail sauce that was not served should be consumed within 2-3 days if stored in an airtight container in the refrigerator. It is important to keep the shrimp and cocktail sauce in separate containers to prevent cross-contamination and ensure freshness.
Do not reuse leftover shrimp from a shrimp cocktail that has been served. Shrimp are highly perishable and can spoil quickly, especially if they have been left out at room temperature for an extended period of time.
Even if the shrimp are refrigerated after being served, they may have been handled and exposed to bacteria during the serving process.
Don't miss this tip
Be sure not to overcook the shrimp otherwise the texture of the shrimp will be tough.
Common Questions
Can I make shrimp cocktail ahead of time?
Yes, you can make a shrimp cocktail ahead of time by cooking and chilling the shrimp and making the cocktail sauce separately. When you're ready to serve, arrange the shrimp on a platter and serve them with the cocktail sauce.
Can I use frozen shrimp for shrimp cocktail?
Yes, you can use frozen shrimp for shrimp cocktail. Just make sure to thaw them completely in the refrigerator overnight or by running them under cold water before cooking them.
Is shrimp cocktail healthy?
It is a healthy appetizer as shrimp is low in calories and high in protein.
How many shrimp should I plan per person?
It will depend if you are serving other appetizers with the shrimp. However, a good guide is 3-4 shrimp per person.
I don't have lemon juice can I omit it?
Yes, the cocktail sauce is still good without lemon juice in it.
Pairings
If you are making the roasted shrimp cocktail as an appetizer and need additional appetizers, pair it with Bacon wrapped dates and Spicy pecans. All three of these are easy make-ahead appetizers and a hit for any get-together.
I hope you try this recipe! Please rate it and comment below. I love hearing from you! ❤️
Print
📋 Recipe
Easy Roasted Shrimp Cocktail
Author:

Gitta Grether-Sweeney

Prep Time:

10 minutes

Cook Time:

5 minutes

Total Time:

15 minutes

Yield:

50

shrimp

1

x

Category:

Appetizer

Method:

Oven

Cuisine:

American
---
Description
Shrimp cocktail is a classic appetizer guaranteed to be a hit at parties or other gatherings.  Chilled shrimp and a tangy cocktail sauce are perfect pairings.  The dish is not only delicious but also easy to make. 
---
2

pounds

21-25 count, thawed, peeled, tail-on raw shrimp
1 tablespoon olive oil

½ teaspoon

kosher salt

1

cup

ketchup

2 ½ tablespoons

old-fashioned horseradish, (not creamy)

2 teaspoons

fresh lemon juice
---
Instructions
Shrimp
 Preheat oven to 400°F.
 Spray a sheet pan with pan-release spray.
 In a bowl or directly on the sheet pan, toss shrimp with olive oil and salt.
 Place shrimp on a sheet pan.  Be sure not to overcrowd the pan.
 Bake 4-5 minutes until the shrimp turns pink.  Be careful not to overcook the shrimp.
 Place shrimp on a plate or shallow bowl and refrigerate until ready to use.
Cocktail Sauce
In a small bowl (16 ounces), combine ketchup, horseradish, and lemon juice.  
Stir until combined. Refrigerator until ready to use.
Serving
Serve the shrimp on a platter garnished with lemon wedges.  If the shrimp will be at room temperature longer than 30 minutes, place the platter of shrimp over a slightly larger platter or bowl lined with ice.
---
---
Notes
Nutrition
Serving Size:

1 Shrimp dipped in Sauce

Calories:

28

Sugar:

1.4 g

Sodium:

102.2 mg

Fat:

0.8 g

Carbohydrates:

1.7 g

Protein:

3.7 g

Cholesterol:

29.6 mg
Keywords: shrimp, appetizer, cocktail sauce, shrimp cocktail
Subscribe to Newsletter
There are links to Amazon for equipment that I use to make this recipe for your convenience. If you purchase the equipment, I'll receive a small commission. For more information, please read my policy.