This easy guacamole is for you if you don't want cilantro or tomatoes in your dip. You only need 5 minutes and a few ingredients to make this super tasty guacamole. Be careful; you might eat the whole bowl in one sitting; it's that good.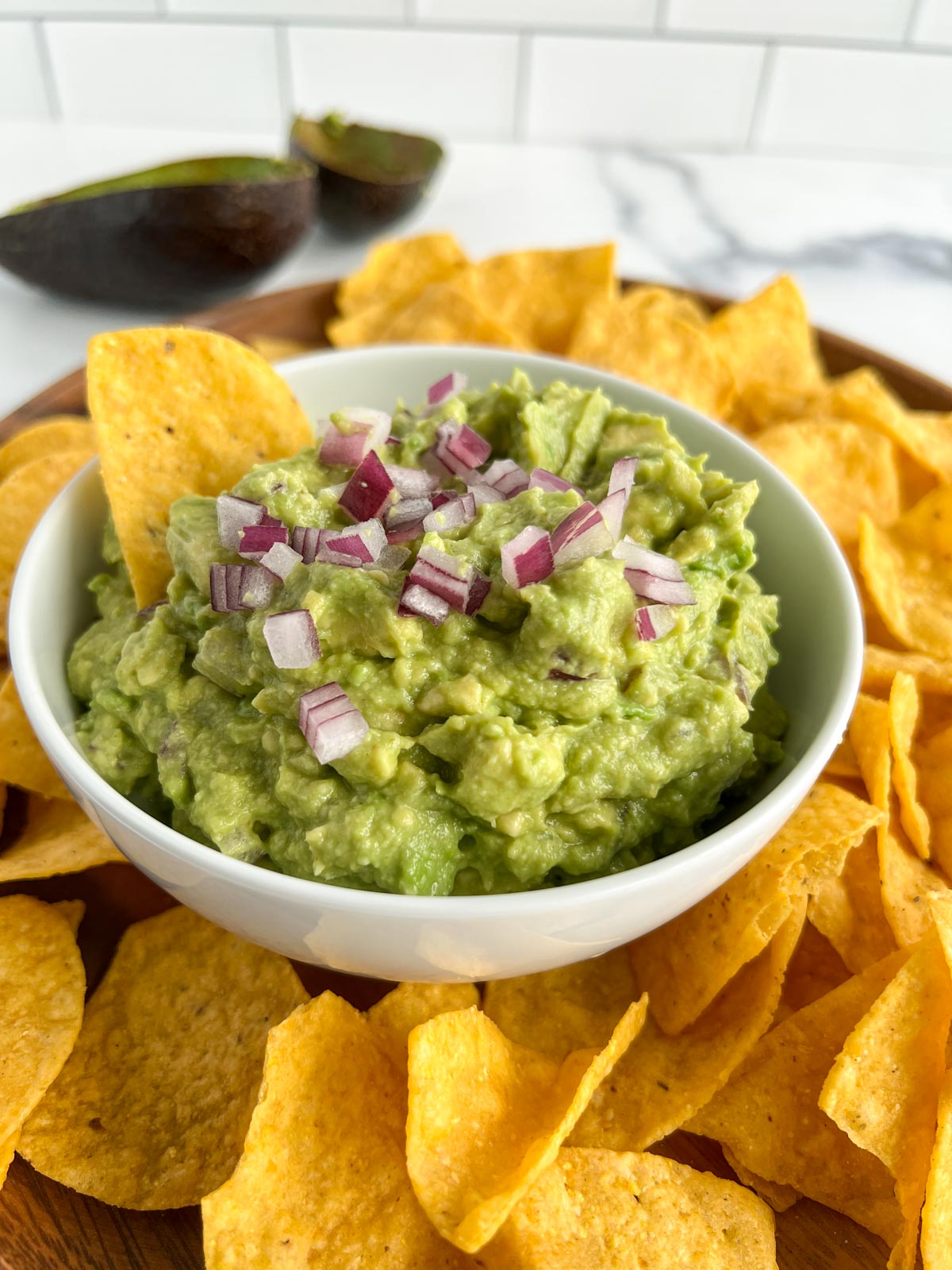 Hands down, this is the best guacamole recipe, and it is made without cilantro and tomatoes. It's so good that I can eat a whole bowl of it in one sitting. I don't even need tortilla chips; just give me a spoon! 😂
I have to be honest; I can't claim it as a recipe I developed because this is my son's creation. He made it for an appetizer on one of his recent visits, and I fell in love with it. It is now my go-to guacamole recipe.
Many of you don't like cilantro-it tastes like soap to you. Good news! You won't find any cilantro in this guacamole.
Another ingredient you will not find is tomatoes. Even though I love tomatoes, I do not like them in guacamole.
The ingredients and process to make this guacamole recipe are simple; ripe avocados, red onion for crunch and flavor, garlic, cumin, a squeeze of lime juice, and salt. Place all the ingredients in a bowl and mash them up, and you have a delicious dip ready in just minutes!
Serve the guacamole with tortilla chips on top of scrambled eggs (my favorite) on toast or quesadillas. Or, if you are like me, eat it on its own with a spoon.
Jump to:
Simple Ingredients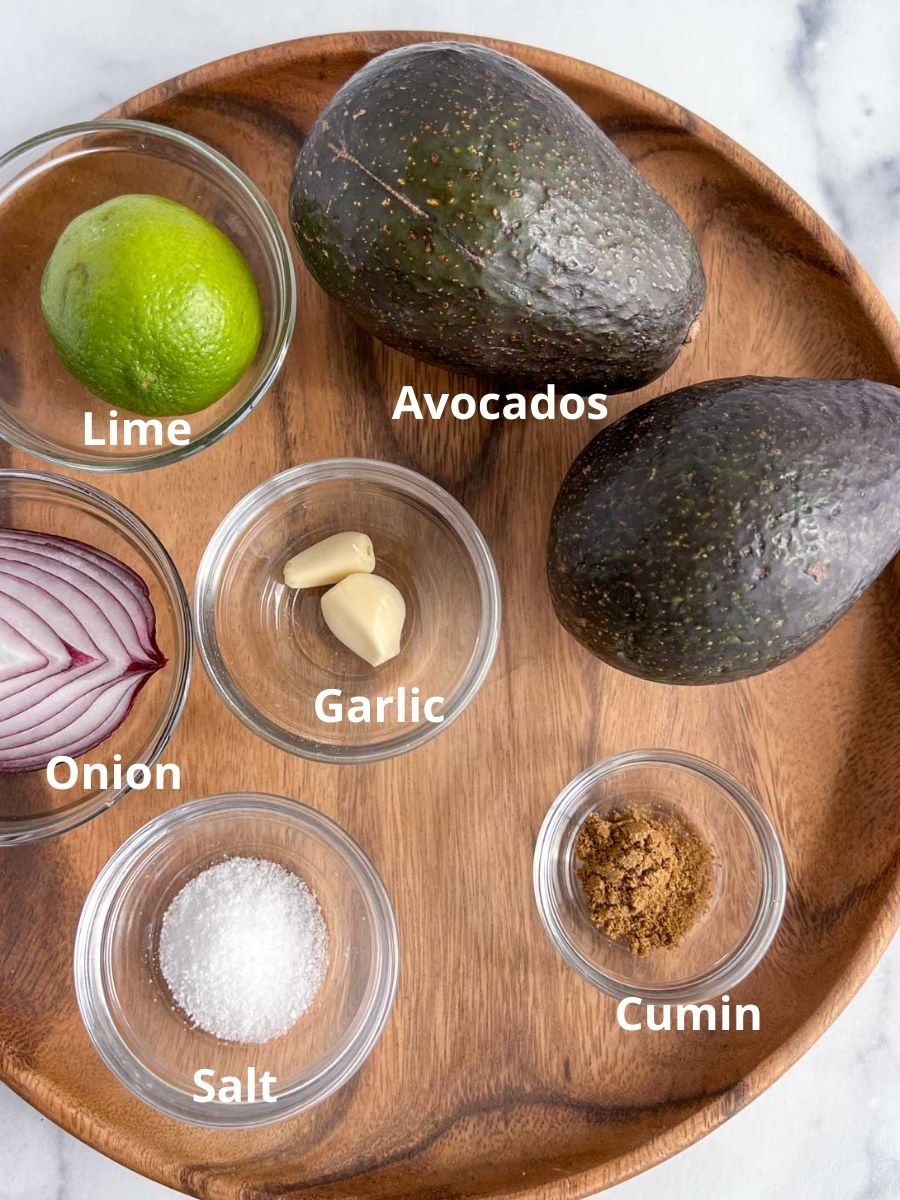 Avocados-I like to use Hass avocados because of their superior taste and smooth texture. Be sure the avocados are ripe. This is key to making perfect guacamole. Read below to learn how to determine if an avocado is ripe.
Red onion-I love red onions in this dip because they are sweeter and not as sharp as yellow ones. However, in a pinch, you can use white or yellow onion.
Lime-fresh lime juice is essential when making guacamole. Do not use bottled lime juice; it has an off taste in guacamole.
Garlic-fresh garlic is best; however, you can substitute ½ teaspoon of garlic powder if you do not have fresh garlic.
Cumin-ground cumin rounds out the flavors.
Kosher salt-avocados need salt. Please don't skimp on it!
Let's make guacamole without cilantro or tomatoes.
You will love how quickly this dip comes together!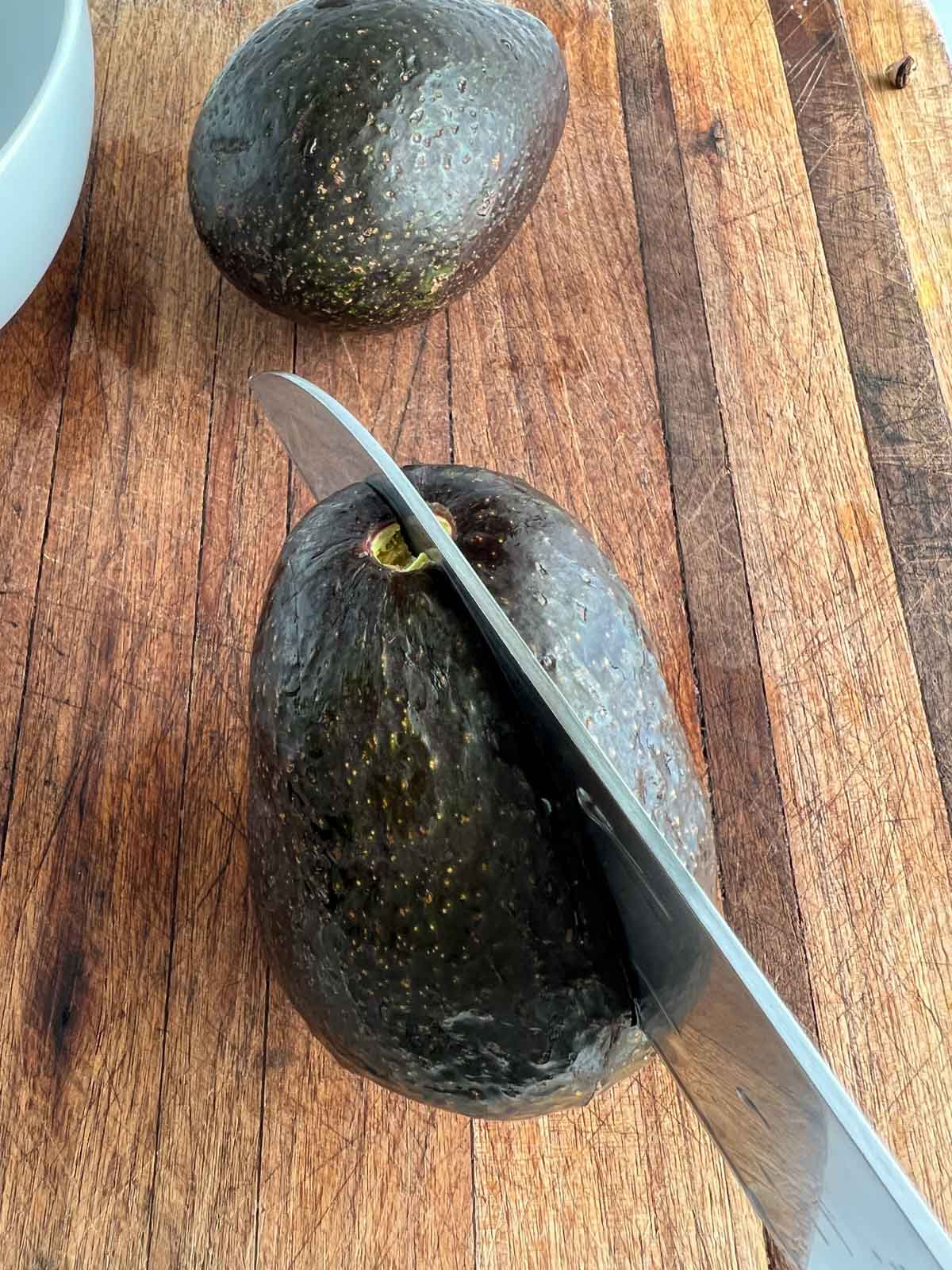 Cut avocado in half

.

Remove the pit.
Score the avocado and gently scoop the flesh out of the shell.
Dice the red onions and add them to the diced avocado. I like larger pieces because it gives added crunch to the guacamole. If you don't like as much of a crunch, dice the onion smaller.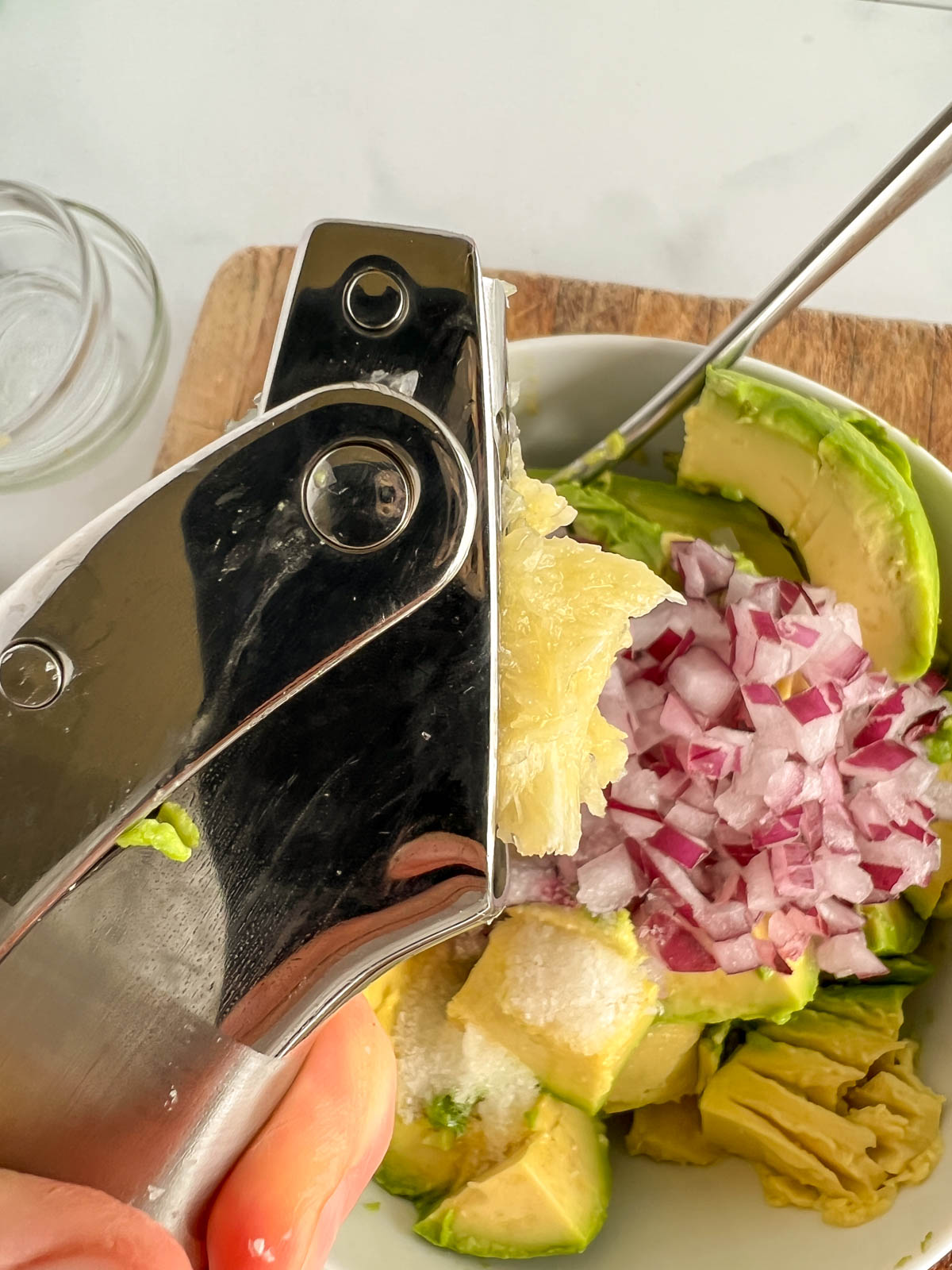 Press the garlic with a garlic press and add it to the avocado.
Add the remaining ingredients; ground cumin, lemon juice, and salt.
Mash the avocado with a fork or potato masher. You could also use a pastry blender.
Mash the mixture until you get the texture you like. I prefer it to be a bit chunky. If you want smooth guacamole, put all the ingredients in a food processor and pulse until you reach the desired constancy.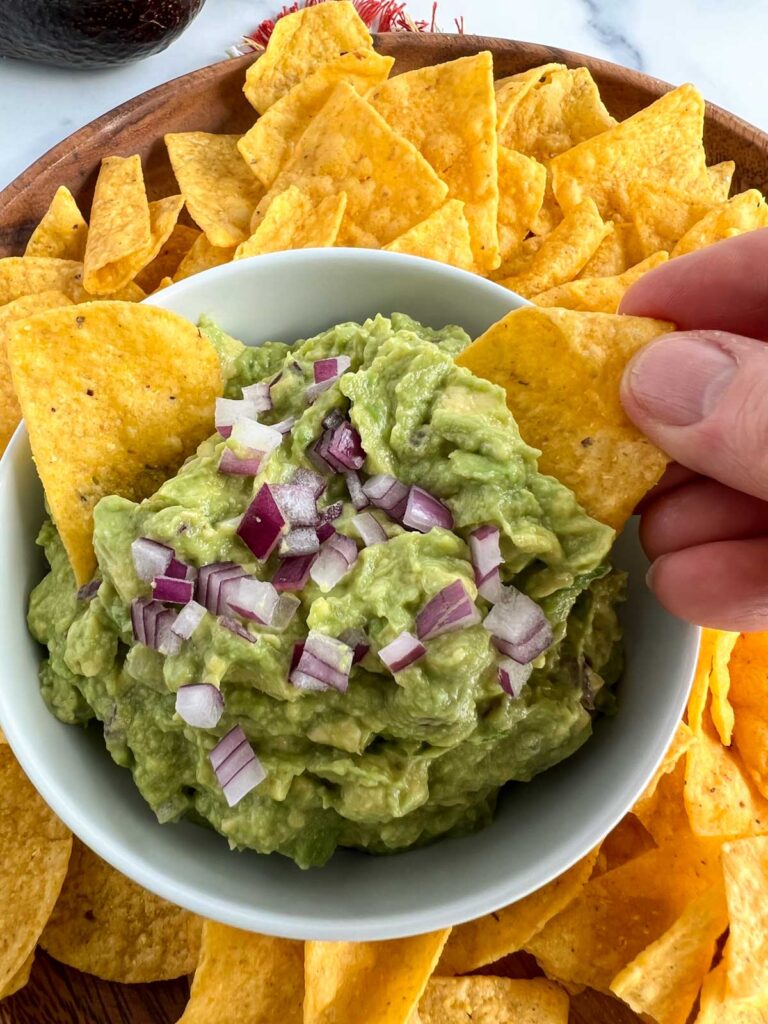 Yum! I can't wait to dip my tortilla chip in this guacamole! You will love it as much as I do! I promise!
Enjoy!
How to remove the pit from an avocado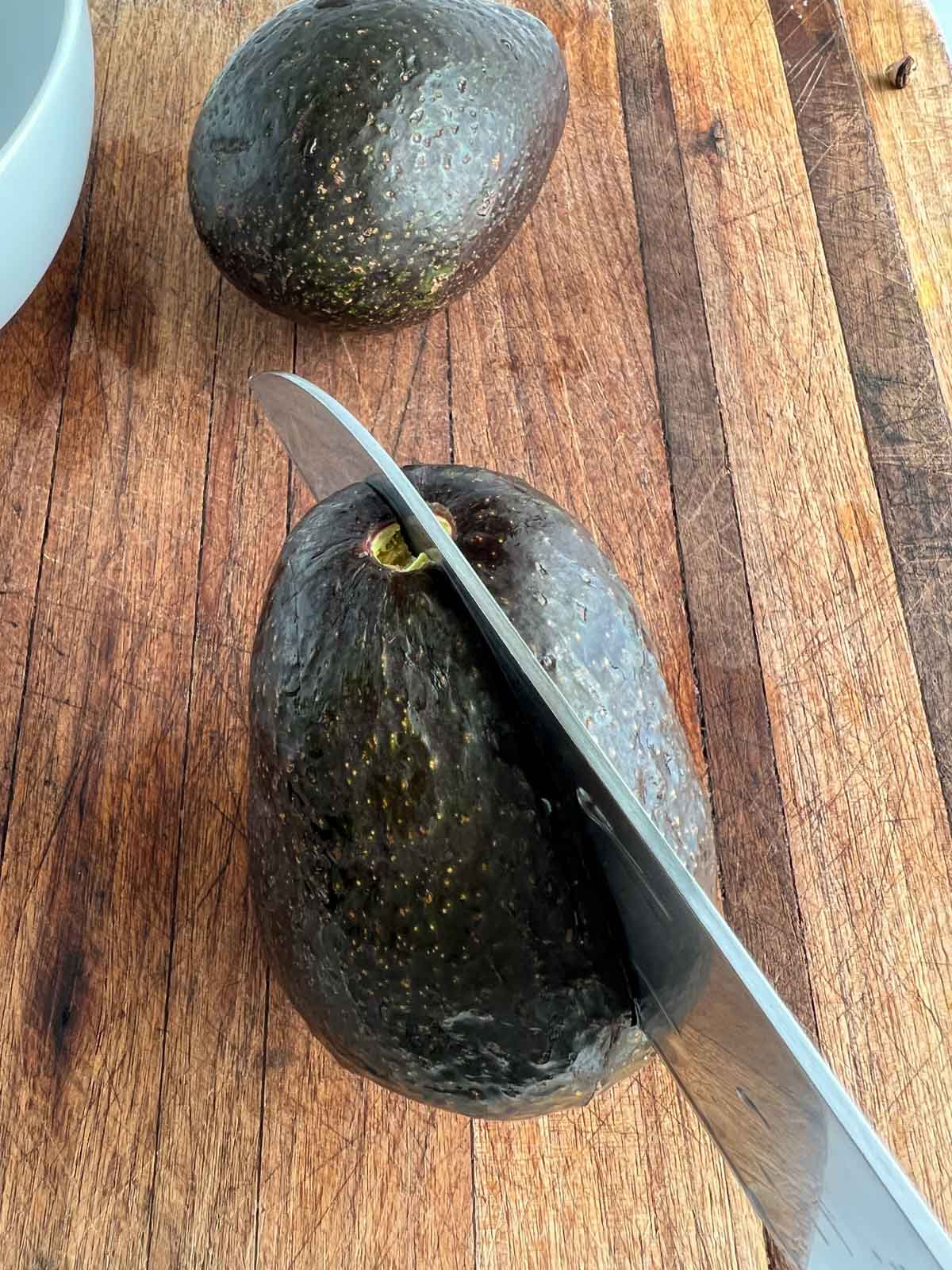 Cut the avocado in half by starting at the stem and moving around back to the stem.
Be sure the avocado is secure on the cutting board, and tap the pit with a chef's knife.
Lift the pit from the avocado. You might have to hold the avocado with your free hand to secure it.
Remove the pit by sliding it off the knife. Lay the pit against the side of a bowl and pull the knife out of the pit.
Don't miss this tip
For your guacamole to have the best taste and texture, the avocados MUST BE RIPE.
How to ripen an avacado
I like to buy green and hard avocados and ripen them at home.
To ripen an avocado, place it on your kitchen counter. Once it turns dark, almost black, and slightly soft, it is ripe and ready to eat.
If you do not want to eat the avocado right away, then place it in the vegetable drawer of your refrigerator. It will maintain the perfect amount of ripeness for another 3-4 days. Keep an eye on it to not over-ripen before you use it.
How to know if an avocado is ripe
Color and Feel are the two most important indicators determining if an avocado is ripe.
Color: The skin of the avocado is dark, almost black when it is ripe.
Feel-Gently squeeze the base of the avocado. If it is slightly soft, it is ripe and ready to eat.
Common questions
What should I do if my avocado is green and hard?
This means that your avocado is not ripe. To ripen in it, leave it in a cool place at room temperature. Check it every day to see if it is ripe.
How many days does it take for an avocado to ripen?
A green and hard avocado can take 3-5 days to ripen, depending
Can you store ripe avocados in the refrigerator?
Ripe avocados store exceptionally well in the refrigerator in the vegetable drawer. I have kept ripe avocados for several days, and they were perfect for guacamole.
Can guacamole be frozen?
Guacamole can be frozen, but the consistency will change and be more watery. Place the guacamole in a plastic bag that can be sealed. Be sure to remove all the air from the bag. Since the texture changes with freezing, the thawed guacamole is best used as an ingredient in foods like burritos or tacos.
What is a Hass avocado?
It is a variety of avocados. About 95% of the avocados sold in the United States are Hass avocados.
Storage Tips-Preventing Guacamole from Browning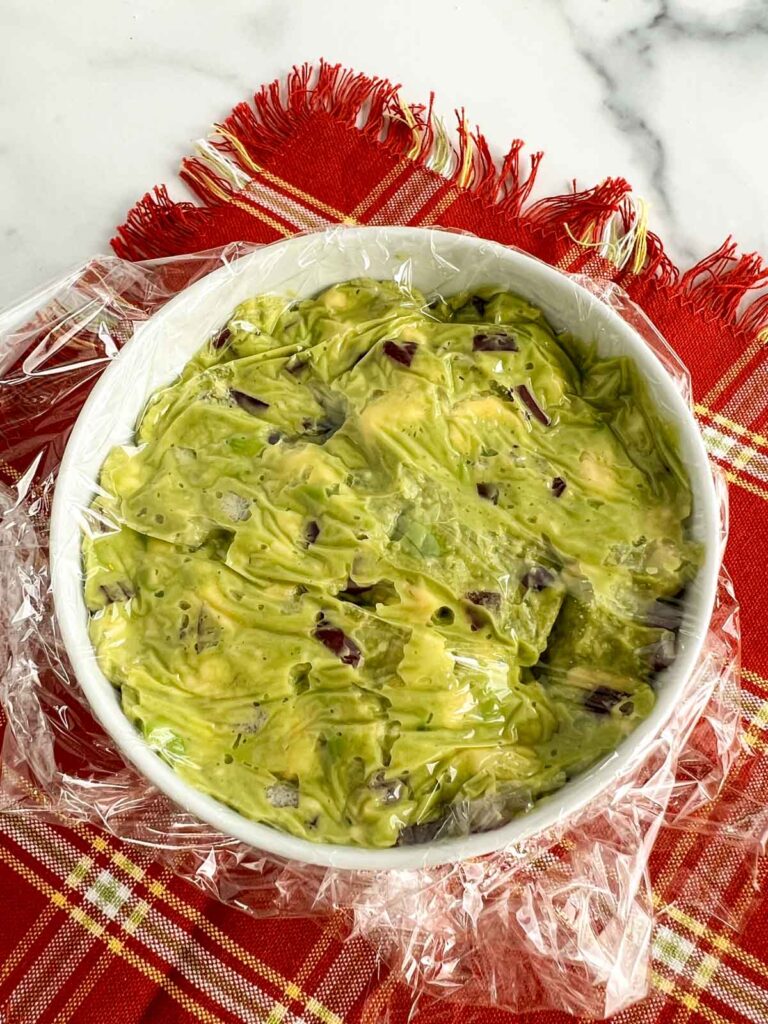 Store the guacamole in the refrigerator.
To prevent browning, Cover the guacamole with plastic wrap and be sure the plastic wrap is touching the guacamole. Seal the wrap on the edge of the container. This prevents air from reaching the guacamole, which turns it brown.
Guacamole can be kept in the refrigerator for 2-3 days. If it browns, carefully remove the browned guacamole.
Recipe Variations
Try some of the following additions to the guacamole:
To make spicy guacamole add a few dashes of red pepper flakes or cayenne pepper, a squeeze of sriracha, or a diced jalapeno. If you like it extra hot, add the seeds of the jalapeno.
Tomatoes-if you add diced tomatoes, add them right before serving the guacamole because they make it watery.
Chives are a lovely addition. Slice them finely and add about ½ tablespoon to the guacamole.
How to serve guacamole
Guacamole can be served so many different ways. Try some of the following:
As a dip with tortilla chips or veggies such as baby carrots, mini bell peppers, celery sticks, or cucumbers.
Top scrambled eggs with a dollop of guacamole.
Toast bread and spread guacamole on it for avocado toast. Delish!
Add a dollop of guacamole to a hamburger or cheeseburger.
I love to add a scoop of guacamole on top of the queso. It's a delicious combination!
Top a grilled chicken breast with guacamole and serve a tomato and cucumber salad on the side.
Guacamole is great with quesadillas, enchiladas, fajitas, or a taco salad.
What's your favorite way to eat guacamole?
I hope you try this recipe! Please rate it and comment below. I love hearing from you! ❤️
Print
📋 Recipe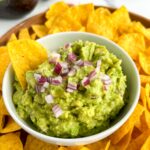 Easy Guacamole without Cilantro and Tomatoes
Author:

Gitta Grether-Sweeney

Prep Time:

5 minutes

Total Time:

5 minutes

Yield:

2 cups

1

x

Category:

Appetizer

Cuisine:

Mexican
---
Description
This easy guacamole is for you if you don't want cilantro or tomatoes in your guac. You only need 5 minutes and a few ingredients to make this super tasty dip. 
---
2

Hass Avocados

⅓

cup

red onions

2

cloves garlic

½ teaspoon

ground cumin

1 tablespoon

lime juice

1 teaspoon

Kosher salt
---
Instructions
Wash the outside skin of the avocados.
Cut the avocado in half, starting at the stem.
Remove the pit by gently tapping a chef's knife on the pit and lifting the pit from the avocado.  If the pit sticks to the knife, place the pit against the inner edge of a bowl and pull the knife away from the pit.  
Score the avocado.  Then place a metal spoon between the flesh of the avocado and the peel and scoop it out. Place the diced avocado in a bowl.
Dice the red onion into ⅛ -¼ inch cubes.  Add them to the avocado.
Remove the peel from the garlic and crush the garlic in a garlic press.  Add the garlic to the avocado and onion.
Add the remaining ingredients, ground cumin, lime juice, and salt.  
Mash the mixture with the back of a fork or a potato masher to the desired consistency.
 Serve immediately or cover with plastic wrap, ensure the plastic wrap touches the guacamole, and refrigerate until ready to use.  
Guacamole can be stored in the refrigerator 2-3 days before it begins to brown.
Serve with tortillas, chips, or veggies or as a topping with your favorite food.
Enjoy!
---
---
Notes
1.  Be sure only to use ripe avocados.  Read above for more information.
Nutrition
Serving Size:

2 tablespoons

Calories:

50

Sugar:

0.2 g

Sodium:

147.9 mg

Fat:

4.5 g

Carbohydrates:

2.9 g

Protein:

0.6 g

Cholesterol:

0 mg
Keywords: guacamole, guacamole without cilantro and tomato, avocado, dip guacamole dip
Subscribe to Newsletter