Hello! My name is Gitta Grether-Sweeney and I am so happy that you are here visiting my site. I am a Registered Dietitian and have a passion for cooking delicious food that is not fussy. On this site, I will share simple and healthier (mostly) recipes that you can make quickly for your family-even on a weeknight. I love hearing from readers. If you would like to contact me you can reach me at [email protected]
I Love to Cook!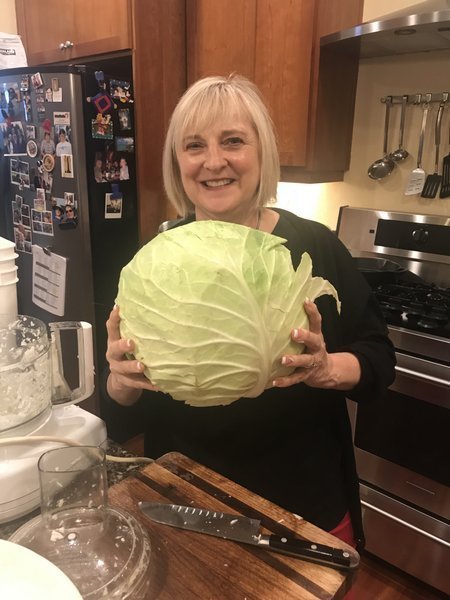 The kitchen has been my happy place since I was in elementary school. I am lucky because my mother encouraged me to cook and never chased me out of the kitchen. She is a great cook and my passion for food and cooking came from her. My mother who is now 87, still cooks excellent meals and loves to try new recipes.
A Diagnosis Led me to a Career in Food
During my freshman year in college, I was diagnosed with Type 1 Diabetes and learned the importance of how food impacts chronic disease. I quickly learned that different foods affected my blood sugar. This daily experience led me to the field of nutrition, and I became a Registered Dietitian. I strongly feel that it is important to prepare your meals (preferably from scratch) so that you can control what you are putting into your body.
Early in my career, I discovered that I did not like working in hospitals. I had the opportunity to be a food service director at a school district and never looked back. It was wonderful to be able to impact millions of children's lives over my career by teaching them how to eat healthy meals through the breakfasts and lunches that were served in the school districts in which I worked. In my last job (before retiring), we eliminated unwanted ingredients such as antibiotics from chicken and implemented a robust farm to school program.
Family Meals are important
I worked full time outside the home but every evening the way I would unwind was to try new recipes for our family dinners. For some people preparing dinner is stressful but for me, it was and still is very relaxing.
Family meals were a great time for my husband and me to connect with our two sons and spend time together after a long day. The boys would help me prepare the meals which helped them develop the skills to prepare their own meals when they went to college. Today, they are both great cooks and prepare their meals (from scratch).
Goals for the Blog
Through this blog, I will continue my passion for cooking healthy and delicious meals and share recipes that are easy to prepare and can be made on weeknights for your family.
When I cook, I look for ways to minimize ingredients and to make recipes "healthier" (less fat, less salt, less sugar). Of course, I will also share some "not so" healthy dishes because you should enjoy those too!
My Kitchen Helpers
Joining me in the kitchen are my two Golden Retrievers, who love to eat. They are the best vacuum cleaners eating anything that drops on the floor. Kepler and Lili are also my exercise buddies. We enjoy our daily walks so that we can stay healthy together.
Hobbies
When I am not in the kitchen, I enjoy gardening, reading, hiking, snowshoeing, kayaking, and traveling.
Thank you for coming to my website! I hope the recipes I share will become some of your favorites!
Happy Cooking!
Contact
If you have questions about the recipes or need to contact me, please email me at [email protected] I look forward to hearing from you!