Roasted acorn squash is a favorite fall vegetable and is easy to make. Brush the squash with olive oil, bake it in the oven, and it is ready to eat! Somehow sweet and savory, acorn squash pairs well with many dishes for a cozy meal on a cold winter night. Try roasted squash. Your taste buds and family will thank you!
In the fall, I love to go to the farmer's market to see the assortment of winter squash displayed throughout the market. They come in an amazing array of colors, shapes, sizes, and varieties. Even though they are generally available in grocery stores year-round, this is the time of year when they have the best flavor, and the nutrients in the squash are at their peak.
One of my favorite types of winter squash is acorn squash. They look like acorns, but instead of being brown, they have a green ridged outer skin, and the inside flesh is orange. The contrasting combination of colors is beautiful.
At first glance, acorn squash looks intimidating to prepare. I did not cook them for the longest time because I had no idea how to prepare or serve them.
In college, a friend invited me to dinner and served roasted acorn squash. I loved them and learned how easy they are to cook. From that time on, I look forward to autumn to eat them. As a matter of fact, they are on my fall menu rotation every year!
Jump to:
Is Acorn Squash Healthy to Eat?
Acorn squash is rich in antioxidants which can help protect people from various diseases such as heart disease, diabetes, high blood pressure, and certain cancers. It is also rich in nutrients such as vitamin C, vitamin A, potassium, and magnesium. One cup of cooked, cubed, unsalted acorn squash provides 115 calories, 30 grams of carbohydrates, and 9 grams fiber. USDA
How to Choose an Acorn Squash
The squash should be heavy for its size. The skin should be dull and smooth and have no cracks or soft spots. If the skin is shiny, it is picked too early and will not be sweet. Therefore, the skin should be mostly green. If there is too much orange, it means the squash is overripe and will be stringy and dry.
How to Store Squash
Because acorn skin is slighter and thick, whole acorn squash is best stored in a dry, cool (50-60°F) place for up to three months.
Ingredients for Roasted Squash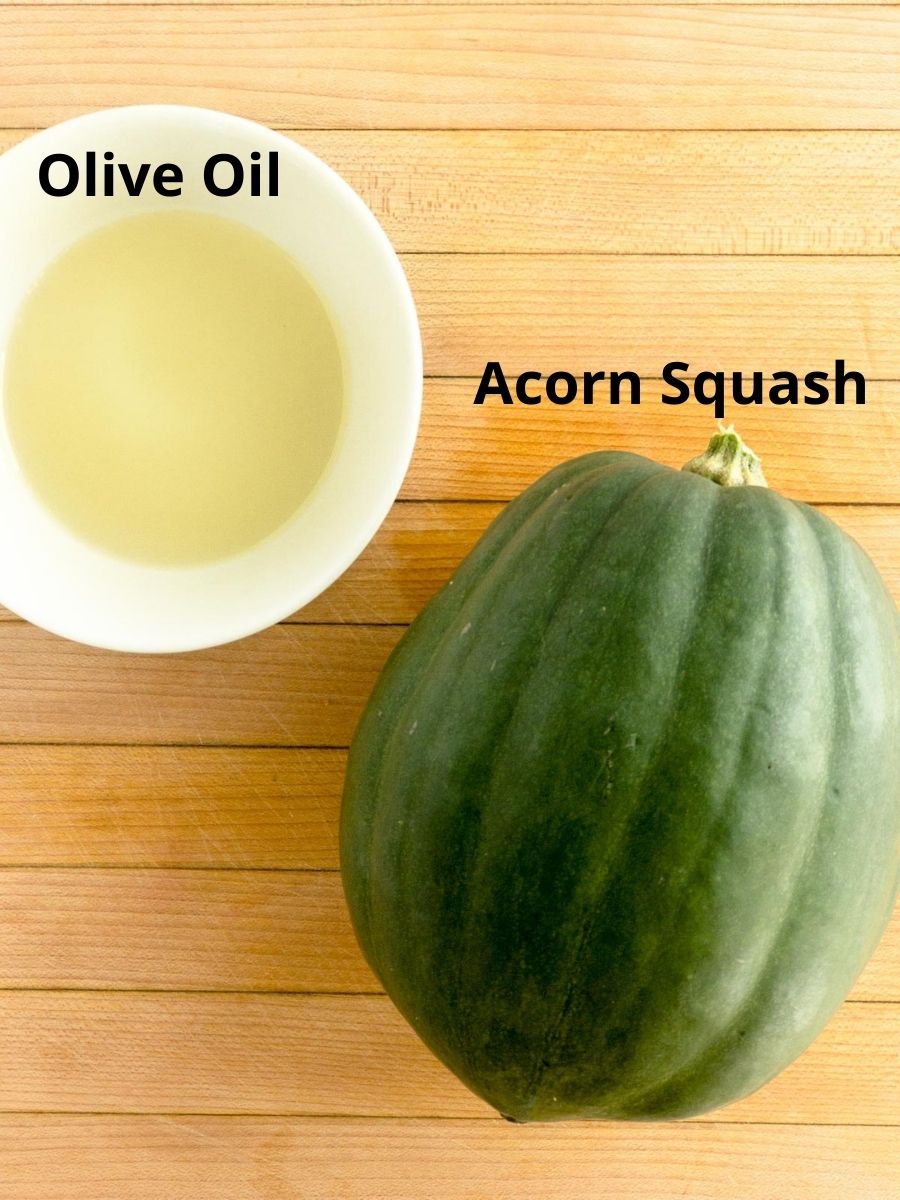 Other than salt and ground black pepper, only two ingredients are needed to roast acorn squash.
Extra virgin olive oil-this oil is great for roasting because of its smoke point. Canola or vegetable oil are good choices if you prefer neutral-flavored oils.
Acorn Squash-use fresh acorn squash for the best results and flavor.
How to Roast Acorn Squash Halves
Step 1: Cut the squash in half
To be honest, the most difficult part of cooking acorn squash is cutting it. Even though acorn squash looks challenging to cut, a few tricks make it much easier.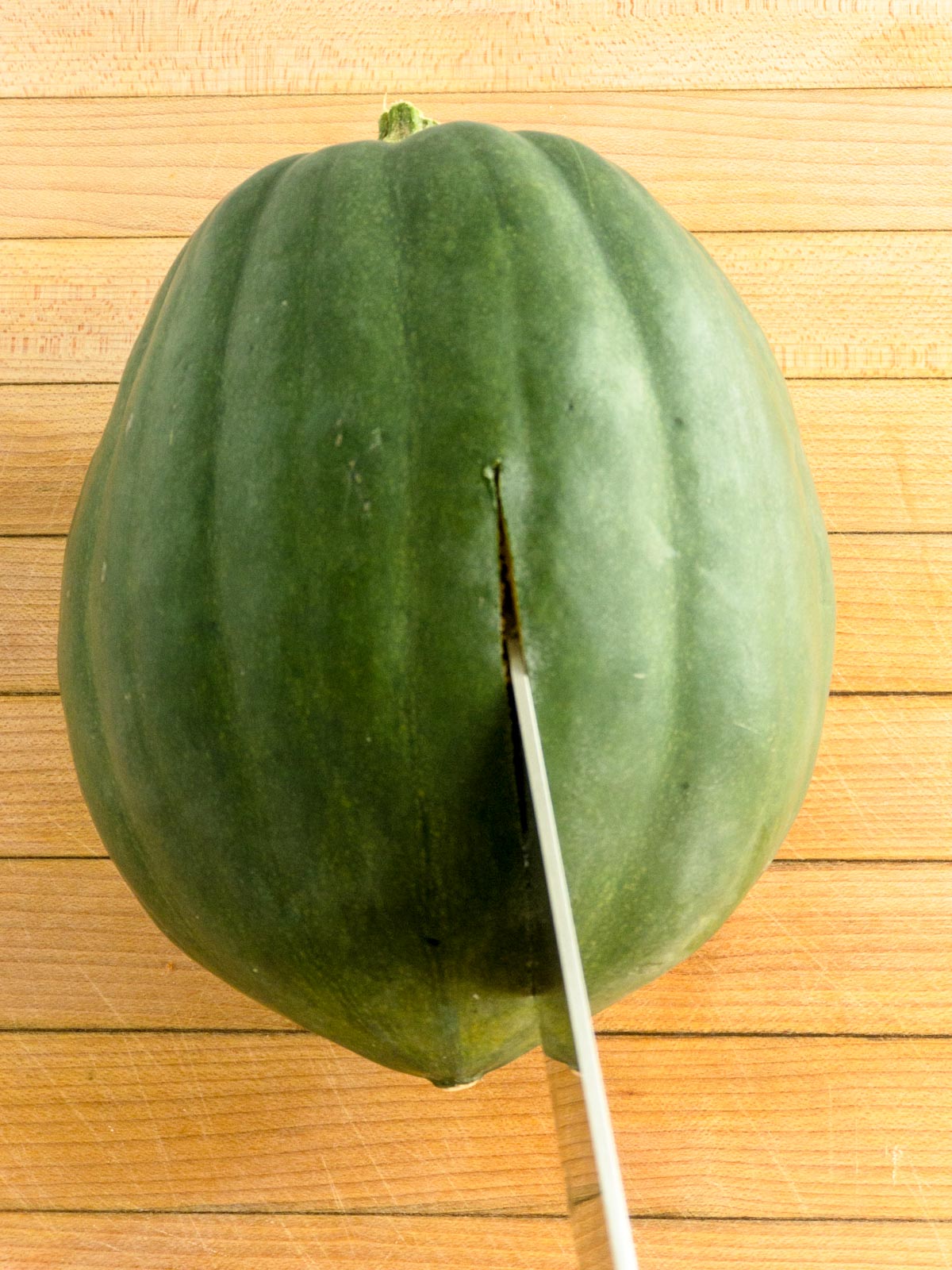 Use a sturdy, sharp chef's knife. This is key! A small flimsy knife (like a paring knife) could be dangerous to use since the flesh of the acorn squash is thick.
Soften the skin by microwaving the squash on high for one minute.
Do not try to cut through the stem. It is difficult and unnecessary to do.
Insert a knife in the squash and cut it down towards you.
Remove the knife, turn the squash around, and cut within 2-3 inches of the stem.
With your hands, take the cut ends and pull the acorn apart The squash should easily break in half, leaving you with two acorn halves.
Step 2: Clean the seeds out of the squash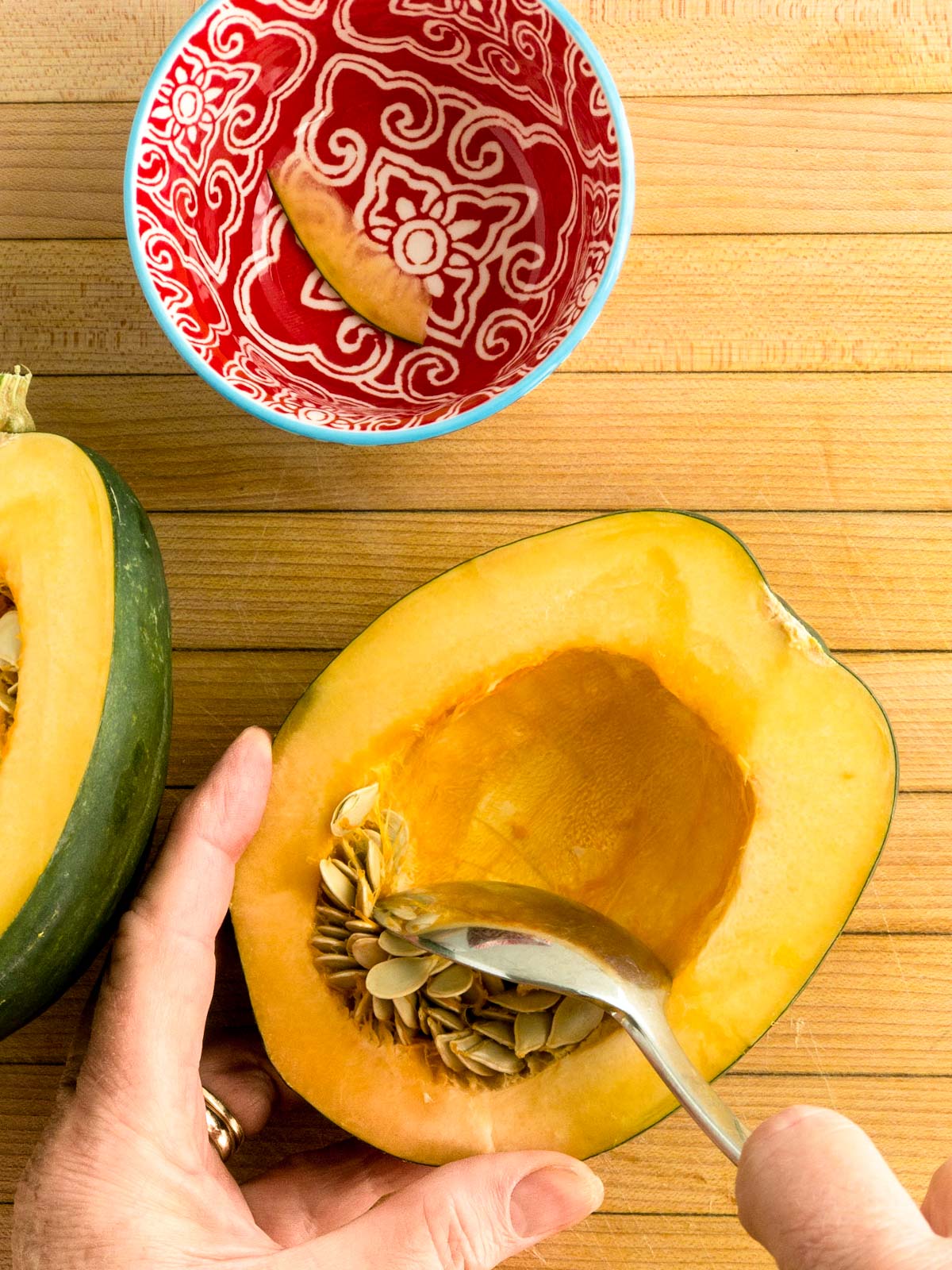 Using a spoon, scrape the seeds out of the squash halves.
Step 3: Brush the inside flesh and the outer skin of the squash with extra virgin olive oil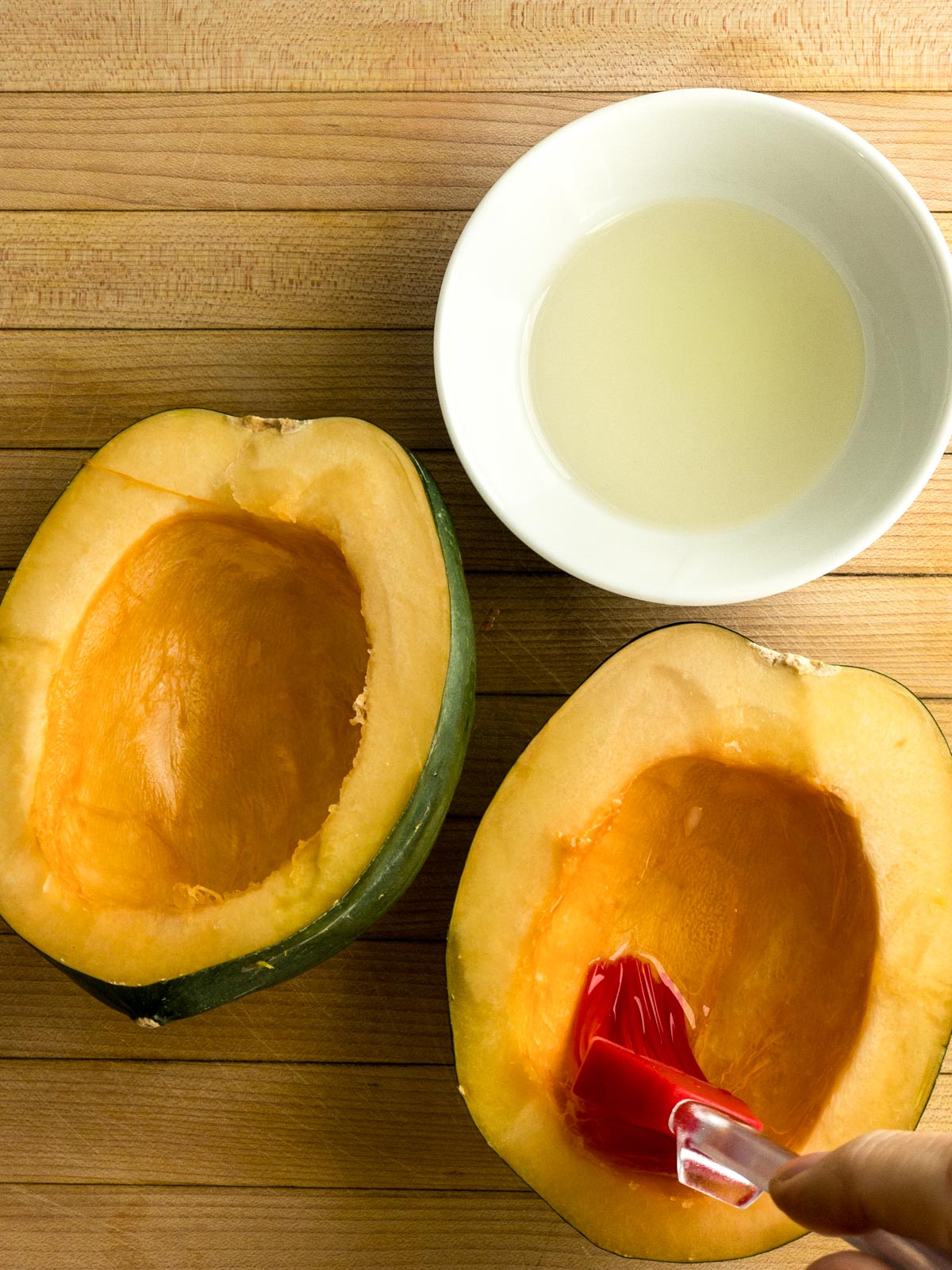 Step 4: Place squash halves on a foil-lined sheet pan
Step 5: How long do you roast acorn squash? Roast for 25-30 minutes in a 425° F. oven.
Enjoy cozy roasted acorn squash!
Seasoning Variations
Both sweet and savory seasonings are delicious ways to add additional layers of flavor to acorn squash.
Add 1 teaspoon brown sugar and 1 teaspoon butter to the squash before baking. Note: the cut side of the squash halves will need to face up if you use brown sugar and butter while baking the squash.
Brush the flesh of the roasted squash with honey or maple syrup after you take it out of the oven.
After the squash is finished baking, sprinkle any of the following on the squash: nutmeg, cinnamon, cumin, Parmesan cheese, cayenne pepper, red pepper flakes, or sage.
How to Serve Roasted Acorn Squash
Serve it as a side dish!
Acorn squash is a delicious side dish in the fall and winter. Serve it with pork chops, Fast Roasted Chicken, or grilled steak. It also makes a beautiful and easy vegetable for Thanksgiving.
Serve it as an entree!
Squash halves make the perfect vessel to hold fillings for a delicious winter meal.
Fill squash halves with cooked Italian sausage and faro for an Italian flair.
For a Mexican-themed meal, fill the squash with cooked ground beef or turkey seasoned with taco seasoning and rice and top with grated cheddar or Monterrey jack cheese.
Do you prefer a vegetarian option? Quinoa and roasted vegetables would be delicious.
Add roasted squash (without the skin) to macaroni and cheese. The kids won't notice, and you have added a vegetable serving to their favorite comfort food!
Squash and pasta are great together. Scoop out the squash and combine it with pasta, brown butter, and a dash of red pepper flakes. Add a side salad, and you have an easy weekday meal. Yum!
Can you Eat the Skin on the Squash?
Yes, if you like, you can eat the skin. Personally, I find it a little tough and do not eat it. Therefore, I either scoop the flesh out of the shell before serving or serve it with the skin on, and everyone can scoop the orange flesh out themselves.
How to Store Leftovers
Refrigeration
Store leftover cooked squash in a covered container for up to 3 days.
Frozen
Store leftover cooked squash in the freezer in a covered container for 3-5 months.
Pro Tips:
Be sure your oven is set to 425°F. High heat will give you beautiful and tasty caramelization on the squash.
For easier cleanup, line the sheet pan with aluminum foil, parchment paper, or a non-stick pan liner. Likewise, you can also spray it with cooking spray.
I hope you try this recipe! Please rate it and comment below. I love hearing from you! ❤️
Print
📋 Recipe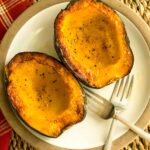 How to make easy oven-roasted acorn squash- (recipe)
Author:

Gitta

Prep Time:

5 minutes

Cook Time:

25 minutes

Total Time:

30 minutes

Yield:

2

1

x

Category:

Side Dish

Method:

Roasting

Cuisine:

American
---
Description
Roasted acorn squash is the perfect fall side dish.  It pairs well with baked or grilled chicken, pork, and beef.  Try it!  Your taste buds and family will thank you!
---
1

acorn squash

½ tablespoon

extra virgin olive oil

½ teaspoon

kosher salt

¼ teaspoon

coarse ground pepper
---
Instructions
Preheat your oven to 425°F.
Line a sheet pan with aluminum foil, parchment paper,  or a non-stick pan liner.   You can also spray the sheet pan with cooking spray. 
Wash the outside skin of the acorn squash.
Microwave the squash for 1 minute on high.  Using a potholder, remove the squash from the microwave and place it on a cutting board.
Using a stiff chef's knife, insert the blade into the squash and cut the squash towards you to the end opposite of the stem.   Remove the knife and turn the squash around and cut within 2-3 inches of the stem.  Do not try to cut through the stem.  It is difficult and unnecessary to do.  With your hands, take the

cut

ends and pull the squash apart  The squash should easily break in half, leaving you with two halves.  Break off the stem.  It should come off easily.
Using a metal spoon (like a soup spoon), scrape the seeds out of the squash.
Brush olive oil on the outer skin and inside and cut the side of the flesh.  
Place the cut side down on the foil so that it will caramelize. 
Roast for 25-30 minutes until you can easily pierce the skin with a paring knife or fork.
Remove from oven and season with salt and pepper.  Season with any other seasoning you desire, such as brushing the inside flesh with honey or maple syrup.  You can also season the squash with any of the following:  cinnamon, cumin, or cayenne pepper.
Enjoy!
---
---
Notes
  Be sure to cook the squash at 425°F so that the squash will carmelize. 
  You can eat the skin however, I feel the skin is tough.  If you prefer to remove the skin, do so after you have baked the squash.  It is easier to scoop the squash out of the skin than to peel it before roasting.  The squash will also taste better if it is roasted with the skin.
  The seeds can be roasted.  After removing them from the squash, place them in a strainer and run water over the seeds to separate them from the stringy flesh.  Toss them with a little olive oil, season them with salt and roast them in the oven at 425°F until light brown. 
Nutrition
Serving Size:

One half

Calories:

116

Sugar:

0 g

Sodium:

587.8 mg

Fat:

3.7 g

Carbohydrates:

22.5 g

Protein:

1.7 g

Cholesterol:

0 mg
Keywords: roasted vegetable, Thanksgiving side dish, easy roasted squash
There are links to Amazon for equipment that I use to make this recipe for your convenience. If you purchase the equipment, I'll receive a small commission. For more information, please read my policy.
Try some of these fall side dishes!