Oven Roasted asparagus is a quick and easy vegetable, making it the perfect side dish. Sprinkle with a few dashes of red pepper flakes for an added kick, squeeze half a lemon on the roasted Asparagus, top with grated parmesan cheese, or add a dash of balsamic vinegar. It's a winner every time!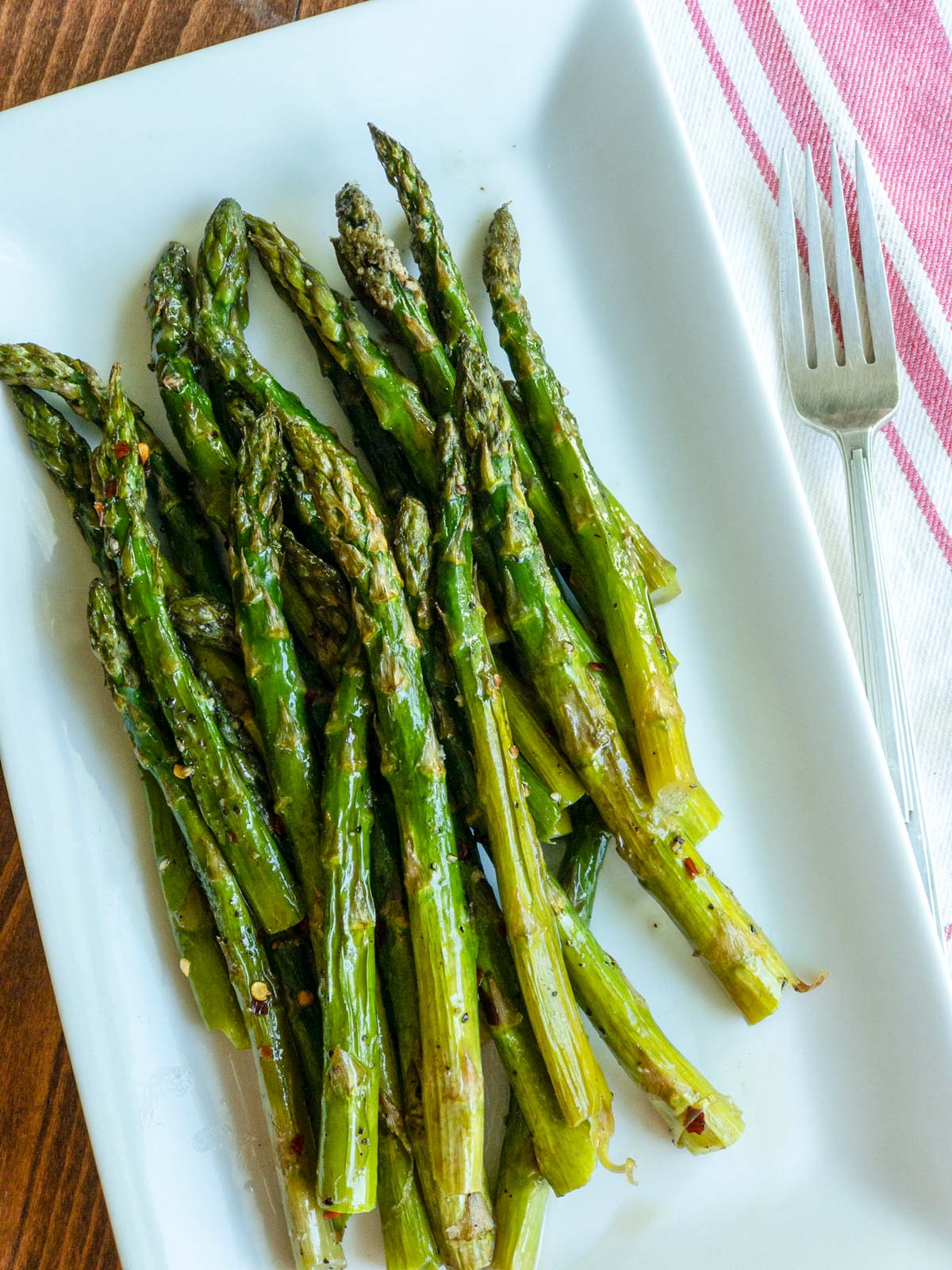 There are many ways to cook Asparagus. However, roasting at a high temperature is by far the best method. It's quick and easy, and the caramelization you get with roasting adds delicious flavor.
Growing up, my mother would steam or boil it, and the Asparagus was mushy and tasteless. It was not my mother's cooking that was the problem, because she is a fantastic cook, it was the method.
Roasting allows the Asparagus to cook quickly and keeps the integrity of the stalks of Asparagus, resulting in a nice bite and texture.
Jump to:
Where to buy asparagus
Asparagus is in season in the spring, although you can usually find it in your local grocery store year-round. Look for it in the fresh produce section.
The ideal place to buy Asparagus is at a farmer's market or farm stand because it will always be fresh.
What to look for when buying fresh Asparagus
Fresh Asparagus is delicious; however, if it is not stored correctly or the Asparagus is old, it is likely to be tough and stringy. Be sure to look for the following when buying Asparagus:
Avoid stalks that are limp.
The tips should be tightly closed.
Stalks should be plump.
If they are green asparagus, they should have a bright green color.
The stalks should not be dried out or wrinkled.
How to store asparagus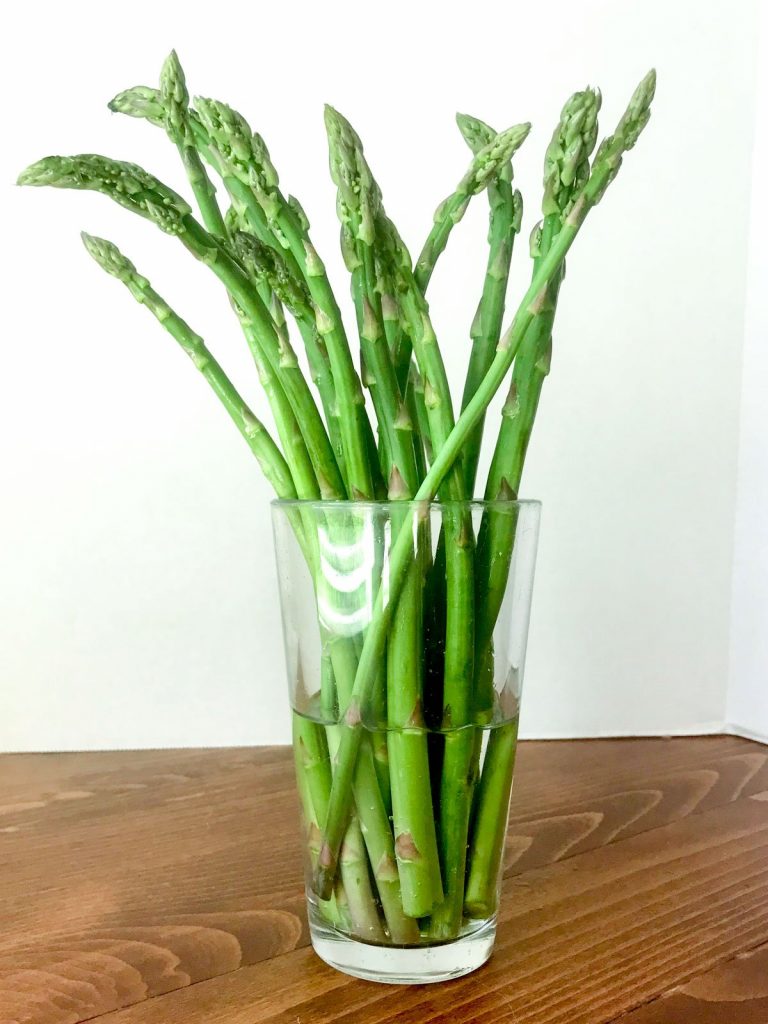 Store asparagus in the refrigerator. If you are not going to use it for a few days, cut off the ends of the stem and place the spears in a glass of water. You can store the Asparagus this way for 3-5 days.
If the Asparagus gets slimy, it is spoiled and must be thrown away.
Is asparagus healthy?
Asparagus is a healthy vegetable because it is high in fiber and it is a good source of folate and Vitamins A, C, E, and K. It also contains chromium. This essential trace mineral can improve insulin sensitivity and boost protein, carbohydrate, and lipid metabolism.
Asparagus is also low in calories. One cup of cooked Asparagus contains only 40 calories!
Ingredients for Roasted Asparagus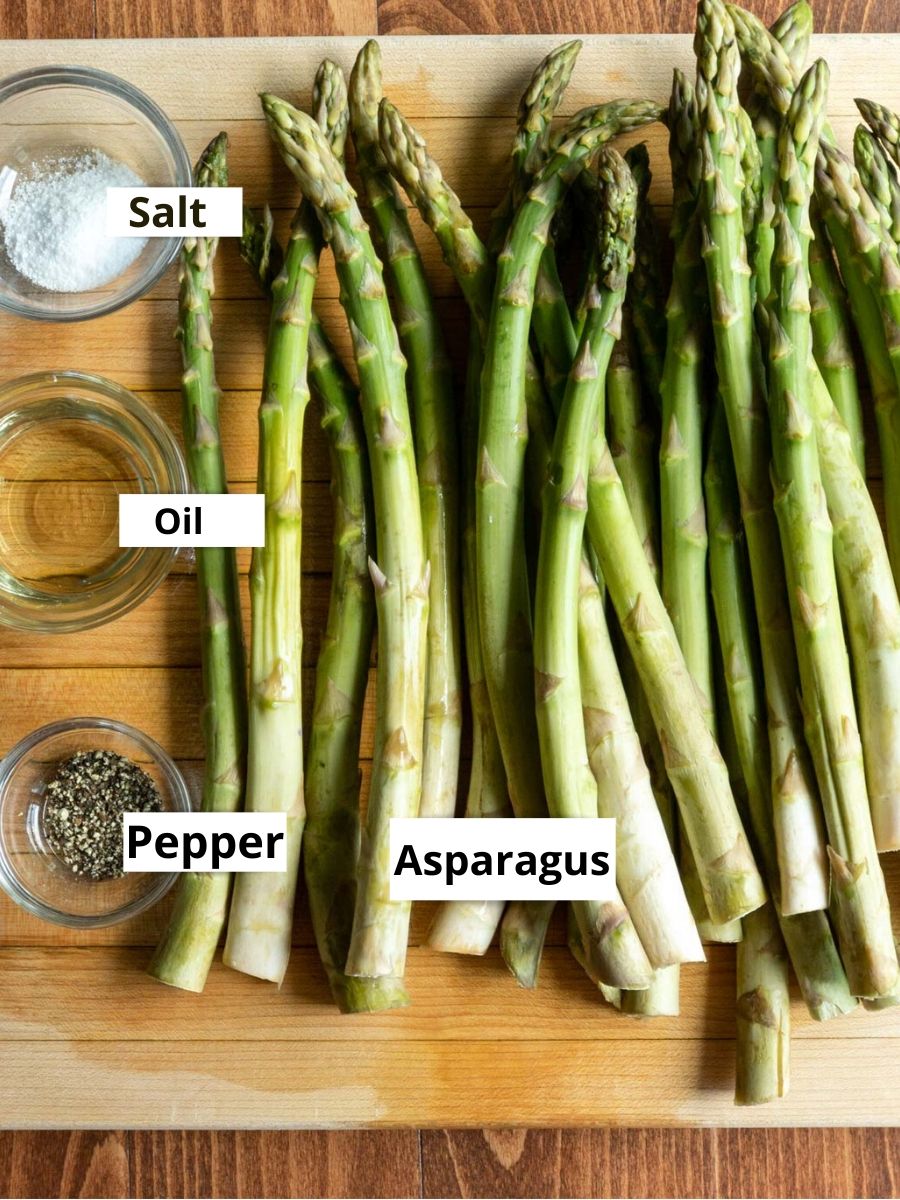 Fresh Asparagus- Only fresh asparagus can be used in this recipe.
Olive oil- Vegetable or canola oil can be substituted for the olive oil.
Kosher Salt- If you use table salt, be sure to cut the amount in half.
Course Ground Pepper-If you use fine ground pepper, only use half the amount called for in the recipe.
How to roast asparagus in the oven
Break the stems off the Asparagus by bending the Asparagus. It will break easily at the woody part of the stem. Discard the stems.
Place asparagus on a sheet pan.
Drizzle with oil, add the salt and pepper.
Using tongs or cleaned hands, toss the asparagus to evenly distribute the oil and seasonings.
Place the pan in a 425°F oven for 10-15 minutes or until the asparagus is done.
Pro Tip: Taste the Asparagus while roasting to ensure that it does not overcook. Every time I make it, the Asparagus requires a different amount of time because the spear's diameter varies. If the asparagus spear is very thin, cook it for only 5-7 minutes.
If they are mushy, they are overcooked. If they are crunchy, they are undercooked.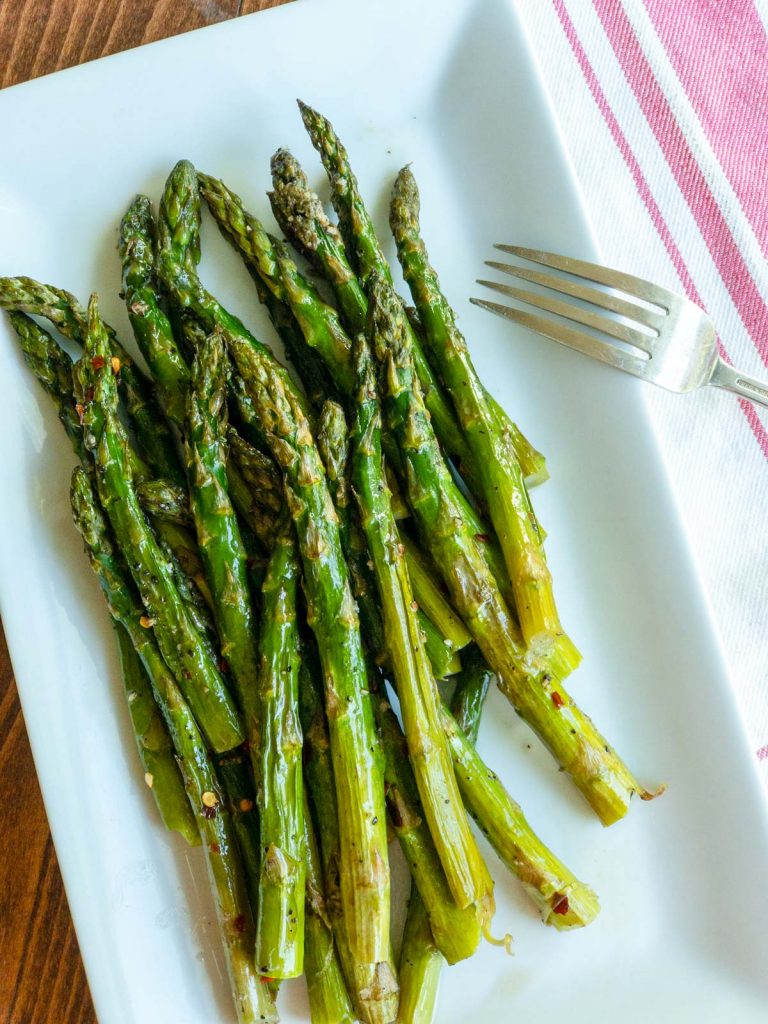 Additional seasonings and toppings
Here are a few ideas for seasonings and toppings that are wonderful additions to add to level up the Asparagus.
Garlic-add 1 teaspoon minced garlic or ½ teaspoon garlic powder and toss with asparagus before roasting.
Pepper flakes-add ¼ teaspoon pepper flakes (as I did above). Red pepper flakes can be added before or after roasting.
Lemon juice-after roasting, drizzle 1 tablespoon freshly squeezed lemon juice on the asparagus.
Balsamic vinegar-after roasting, drizzle 1 tablespoon good quality balsamic vinegar on the asparagus for added flavor.
Parmesan cheese-grate 1-2 tablespoons fresh Parmesan cheese on the asparagus after roasting.
Bacon-Fry 1-2 strips of bacon and crumble it on top of the roasted asparagus.
Storage
Refrigerated: Store leftover roasted asparagus in an airtight container for up to 3 days.
Frozen: Place leftover asparagus in a freezer-safe container for 1-2 months.
How to use leftover roasted asparagus
Reheat asparagus in the oven, on the stove in a skillet or microwave.
Cut the spears into 3-4 inch pieces and add them to pasta, an omelet, or frittata.
Toss the whole spears with 1-2 tablespoons of Easy Vinaigrette for a delicious salad.
Asparagus is a healthy low-calorie snack!
What to serve with roasted asparagus
Roasted Asparagus is the perfect side dish. Serve it with Fast Roasted Chicken or grilled meats such as beef, pork, or lamb. It would also be delicious served with pan-seared or baked fish.
I hope you try this recipe! Please rate it and comment below. I love hearing from you! ❤️
Print
📋 Recipe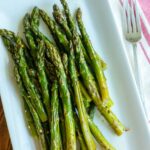 Easy Oven Roasted Asparagus Recipe 425°F
Author:

Gitta Grether-Sweeney

Prep Time:

10 minutes

Cook Time:

10-15 minutes

Total Time:

20-25 minutes

Yield:

6

servings

1

x

Category:

Side

Method:

Oven

Cuisine:

American
---
Description
Oven-roasted asparagus is a quick and easy side dish perfect for lunch or dinner.
---
2.25

pounds

asparagus

2 tablespoons

olive oil

1 teaspoon

kosher salt

½ teaspoon

ground black pepper
---
 Preheat oven to 425°F. 
Place asparagus in a colander and wash them under cold running water.
Pat them dry with a paper towel.
Snap the stems off the asparagus.  The asparagus will easily break when you bend it.

Place the asparagus on a sheet pan that has been sprayed with pan release spray, lined with parchment paper or a silicone mat.
Drizzle oil on the asparagus. 

 Add the salt and pepper.
Toss the asparagus to distribute oil and seasoning. 

Shake the pan side to side to distribute the asparagus.

Place the pan in the oven and roast asparagus for 10-15 minutes until just tender.  
Remove the pan from the oven and serve.
Enjoy!
---
Notes
1. Be sure not to overcook the asparagus because this will make it mushy.
2.  Halfway through cooking, taste a spear to see if it is done.  If not, cook for a few minutes longer.
Nutrition
Serving Size:

Portion

Calories:

75

Sugar:

3.2 g

Sodium:

391 mg

Fat:

4.9 g

Carbohydrates:

6.7 g

Protein:

3.8 g

Cholesterol:

0 mg
Keywords: roasted asparagus, asparagus, side, vegetable, roasted vegetable
Disclaimer: The nutritional information provided is approximate and calculated using online tools. Information can vary depending on various factors, but we have endeavored to be as accurate as possible.